Theatre Royal Drury Lane
Great West End Theatres
All-region DVD
Presented by Sir Donald Sinden
Directed by Marc Sinden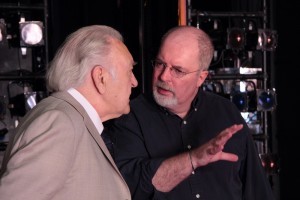 Featuring interviews with
Sir Cameron Mackintosh, Sir Ian McKellen, Griff Rhys Jones, Michael Ball, Gillian Lynne, Anthony Andrews, Steven Berkoff, Simon Callow, Roy Hudd and Martin Shaw.
---
ABOUT THE THEATRE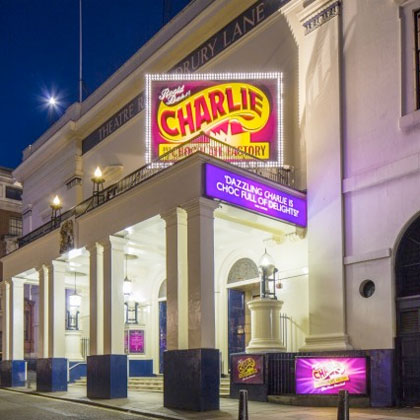 Theatre Royal,
Drury Lane
Built: 1663. Rebuilt: 1674; 1794; 1812. Seats: 2196
Architects: Thomas Killigrew (1663); Christopher Wren (1674); Henry Holland (1794); Benjamin Dean Wyatt (1812)
Current Owner: Really Useful Group
WORLD-FAMOUS STARS
Nell Gwynn ~ Charles Hart ~ Sarah Siddons ~ David Garrick ~ Ivor Novello ~ Edmund Kean
WORLD-CLASS PRODUCTIONS
Pacific 1860 ~ Glamorous Night ~ The Dancing Years ~ Oklahoma! ~ South Pacific ~ The King & I ~ My Fair Lady ~ Miss Saigon ~ The Producers ~ The Lord of the Rings
With the restoration of the monarchy in 1660, Thomas Killigrew built a new theatre in Drury Lane in 1663. Actors appearing at this 'Theatre Royal in Bridges Street' included Charles Hart and close friend of King Charles II, Nell Gwynn.
Destroyed by fire in 1672, a larger theatre on the same site was apparently designed by Sir Christopher Wren. It was renamed the 'Theatre Royal in Drury Lane' and opened in 1674. The theatre was purchased by actor David Garrick who served as actor-manager until he sold his shares in the theatre to Irish playwright Richard Brinsley Sheridan.
On 15 May 1800, James Hadfield made a failed attempt to assassinate King George III in the theatre and in 1809 the theatre burned down.
Sheridan was taken to task for watching the fire in the street whilst drinking a glass of wine. He famously retorted, "A man may surely be allowed to take a glass of wine by his own fireside."
The theatre was rebuilt to a design by Benjamin Dean Wyatt and opened on 10 October 1812 with a production of Hamlet.
The oldest London theatre, Drury Lane is allegedly the world's most haunted.
The most famous ghost is the "Man in Grey", but the ghosts of actor Charles Macklin and Joe Grimaldi the clown are also supposed to haunt the building.
Today the theatre is owned by the Really Useful Group.
It is Grade I listed.